Facial Hair & Anti Aging Combo - Image A.D.S

Sale
$32.88

Regular price

$68.02
Currently there are
peoples are currently looking at this product
Dermaplaning and Dermarolling are Effective Stand alone treatments. But combined they can produce optimal results. Dermaplaning is a safe and simple skin rejuvenation treatment intended to exfoliate the skin and remove unwanted facial hair & peach fuzz. It leaves the skin smoother and looking healthier. This exfoliation allows for your skincare products to penetrate more readily into the deeper layers.

Dermaplaning is an ideal treatment for those with excess vellus hair (Peach fuzz) or unwanted facial hair that can cause dirt and oil to clog follicles. 

Dermarolling will boost your skin's production of collagen & leave your skin glowing, smoother & more evenly toned! Great for reducing visibility of fine lines and wrinkles, but also amazing for skin in need of a tightening effect. The micro-needling treatment has been developed to minimize cellulite and get rid of stretch marks and scars on the body. This is suited for anybody looking to treat wrinkles, fine lines, stretchmarks, UV damage, light scarring, and hyper-pigmentation. It also helps in the boosting of product absorption for quicker and more efficient results.

Combining these two treatments will give you the most desirable outcome. Together these procedures are ideal to treat uneven skin tone and texture, large pores, fine lines, unwanted facial hair, and acne scars. Dermaplaning before Micro-needling allows for topical products to penetrate significantly deeper into the skin layers, allowing the patient to achieve the most desirable outcome.
Included in this bundle:
Image A.D.S Shape & Shave
Image A.D.S 0.5mm Dermaroller
Full money back guarantee if you do not see a difference.

How To Use The Shape & Shave
Cleanse & dry your skin. Place the blade at a 45 degree angle.
Use short gentle strokes on the area from which you want to remove hair and/or exfoliate the skin.

Benefits of Shape & Shave include
Removal of facial hair & peach fuzz.
Exfoliates dead skin, leaving the skin with a glowing, brighter complexion.
Precision eyebrow shaping
Instant results with zero downtime/irritation/redness or pain. 
How To Use 0.5mm Dermaroller
During treatment apply your hyaluronics serum (if desired), but not necessary. We recommend a pure Hyaluronic Serum to enhance results greatly. Roll the Dermaroller gently over the skin whilst applying little pressure to allow the needles to penetrate your skin. Roll over each area 8-10 times in each direction: vertically, horizontally & diagonally (forwards and back equals two rolls). From every stroke lift the roller off your skin, do not drag it across your skin. If you feel that your skin is becoming sore or irritated, you may be applying too much pressure. Frequency of rolling depends on your age, skin concern & desired result. Use a maximum of once a week but depending on the sensitivity of your skin it may be once every 2-3 weeks.

Pre-Treatment - As always with use of home derma rollers/ pens the importance of cleanliness cannot be overstated. Always remember to only treat dry, healthy, double cleansed skin and ensure hands are washed. Do not use any toners that contain alcohol.
Post-Treatment- It is vital that you apply an SPF after rolling to protect your skin. Any broad spectrum SPF with UVA & UVB protection is fine which will contain either Zinc oxide or titanium dioxide. Do NOT apply any products with active ingredients until 72 hours or until skin returns to normal (you may continue using your hyaluronic serum each day).

Cleaning Image A.D.S Products
Make sure your Image A.D.S is disinfected. We recommend 70% Isopropyl Alcohol for simple and thorough cleansing of your Roller. You should also be careful about the manner in which you store your Image A.D.S. Use the accompanying protective casing to ensure the microneedles remain clean & intact. Be extremely careful not to bang the needles, to bend or get damaged. As always with use of home derma rollers/pens, the importance of cleanliness cannot be overstated. Always remember to wash your hands and only treat dry, healthy, cleansed skin.

Safety Precautions
For hygiene reasons never share your Image A.D.S with anyone else. Not recommended for use on irritated or infected skin, active acne, rosacea, eczema, moles etc. Be extra careful when rolling around the eyes; don't go any higher than your cheekbones when using the 0.5mm or 0.2mm roller. Don't use the Image A.D.S on your eyelids as the skin is too thin. Keep products away from possible sources of contamination. Store it in its case when not in use. If the roller is not performing as you expected or you feel it is not rolling smoothly, stop using and replace. Replace every 30-60 days depending on the frequency of use as the needles wear and become less effective or can cause damage to the skin.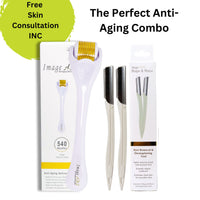 Facial Hair & Anti Aging Combo - Image A.D.S
$32.88